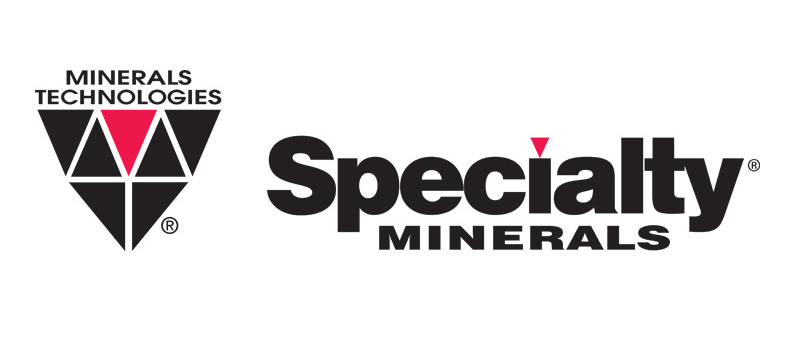 Specialty Minerals Inc. (SMI) is an international manufacturer of high-performance minerals such as talc, precipitated calcium carbonate, ground calcium carbonate, limestone, dolomite, and barite.
SMI products are used for a wide range of items including paper, plastics, adhesives, sealing agents, paints, inks, chemicals, nutritional-enhanced foods, nutritional supplements, specialty ceramics, building materials, and agricultural items.
PCC
PCC is also used in many applications, such as for plastics, sealants, inks, paints, and rubbers.
Product sizes range from 0.07 micron ultra-fine PCC to ultra-dense 12 micron PCC.
PCC in both calcite and aragonite shapes are manufactured in the form of rhomhedrons, prisms, cubes, star-shaped scalenohedrons, and needles.
Powder characteristics
Albacar 5970
Albafil
Super-Pflex
Ultra-Pflex
Average particle size(μm)
1.9
0.7
0.7
0.07
Dry whiteness
98
93
98
98
Particle shape
Rose petals
Prisms
Prisms
Indefinite shapes
Type of printing to apply
Flexographic
Cardboard coating
Water-based
Gravure
Water-based
Non water-based
Gravure
Non water-based
Gravure
Non water-based
Lithographic
Offset
Silk screen
Talc
Since the early 1950s, talc has been mined at a plant in Barretts, Montana, USA. Here, the talc is refined and ground up, and some of it is coated.
A plant in Bay City, Texas, manufactures the Optibloc® series of high-transparency anti-adhesive agents.
SMI developed the first talc anti-adhesive for polyethylene films, ABT®-2500 talc, and subsequently developed the coated Polybloc® talc, and the high-transparency anti-adhesive Optibloc® and ClearBloc®, all of which are widely used by major resin and compound manufacturers. In addition, one of the keys to the automotive and equipment industry is talc used for polypropylene and thermoplastic olefin. SMI's MicroTuff® series is a microscopic and ultrafine reinforcement that provides a high flexural modulus (rigidity), while the ultra-fine and 1-micron grades are particularly useful for maintaining impact strength.
| | | | | | | | |
| --- | --- | --- | --- | --- | --- | --- | --- |
| Average particle size(μm) | 1.0 | 1.2 | 2.0 | 3.0 | 4.0 | 5.0 | 8.0 |
| Hegman(min.) | 6.5 | 6.0 | 5.75 | 5.0 | 3.75 | 3.0 | 2.0 |
| Dry whiteness | 89 | 88.5 | 89 | 87 | 88 | 87 | 85 |
| Oil absorption amount | 55 | 53 | 42 | 34 | 30 | 28 | 26 |